TeamiRepair, a professional iDevice Care sync 2006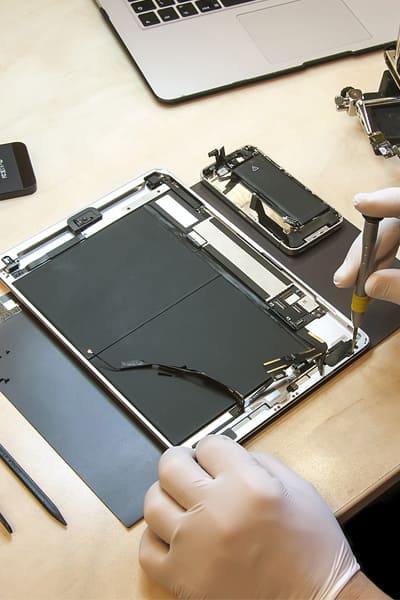 We are a locally owned and operated smartphone repair shop specializing in the immediate professional repair of mobile phones, smartphones and tablets for many manufacturers.
Same Day Phone / Tablet Repair!
We specialize in iPhone Repair, iPad Repair, Apple Watch Repair, Mac Repair.
iPhones Repaired in under 60 minutes!
We include warranty with all of our repairs!
Walking service!
We have been in the Cell Phone Repair business for years and we are known to be one of the most professional in the industry.
Don't go elsewhere, we are the best phone repair store around, guaranteed!
Now repairing your device is much easier with our online quote feature. Simply click the Get Instant Quote button and select your device. This ensures that you receive an accurate repair quote for your exact device and issue.
We take pride in what we do. And what we do best is restore your device back to its original condition. With us, you are guaranteed a professional, original quality repair. We strive for 100% customer satisfaction.
Time is money. And our personal electronics are used in almost every aspect of our life. We strive to get your device back to its original condition in the shortest amount of time possible, without sacrificing quality. Count on us to get your device back to you in no time.
What our Clients say about the TeamiRepair
"The service provided by Yaseen sir and was admirable. The way they handled and guided with a quick resolution was appreciable. Initially when I came for the service was a bit disappointed with the product apple delivered but with the hassle-free service given by the technicians was satisfied. Happy service."
Aditi
"Finally i got my device fixed in first meeting with TeamiRepair, I had an issue my my iphone's receiver and i went to there. There i met with a polite person named Yaseen, he behaved well and the way of coordination was awesome. I got my device fixed within 15 minutes and had a great time. Yaseen was too friendly with me. he was like my younger brother. God Bless You Yaseen. Thanks TeamiRepair for the service."
Chirag Tharwani Reewa

"i am very happy with your service. Mr. Yaseen had done a great work. He attend me as fast as he can do and solve the problem. I am very impressed by him. if someone have some problem than i would like prefer to meet firstly Mr. Yaseen."
Naveen Kumar Raddy

Service of this service center is very good. All of the executive is very helpful and very kind. They always does there work on time. I have visited 2 times this service centre for my iPhone problem . And I got my device before the estimate time.
Priyank Baghel